ABOUT
Africa Gastronomique is a food  organization where you get the opportunity to get nice traditional meals from Africa.

MISSION
Is to help Africans discover and easily have access to their traditional meals.

VISION
To develop African traditional receipts.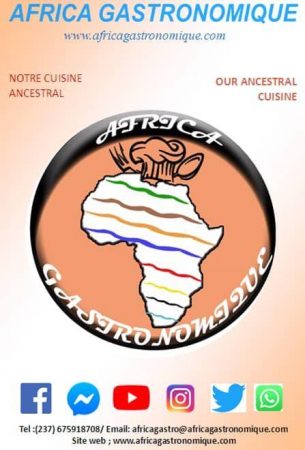 Africa Gastronomique
SUMMARY
What?
Africa Gastronomic connects Africans to Africa receipts of different countries. We are want to re-wake our traditional meals to make them have international standards by preserving our culture and making it taste more delicious. Health is a viral aspect in our living, as such we want to make African have the possibility to get a good meal at an affordable price. Today, with Africa Gastronomic, you can feed a family of 6 with a nice prepared receipt at an affordable price. Where ever you are, from north to south, west to east, discover and prepare African meals at your home. We are right now at 13 countries in Africa planning to be at 23 next year with headquarters in Buea, Cameroon. Our potential partners are passionate people acting in the food industry who wich to revolutionize the African traditional meals.
Today accounting to 20 partners.

How it works?
You contact us on one of our platforms (facebook, Instagram, Twitter, whatsapp, website).
You select the country of your desired meal.
You choose the receipt you wish.
You pay and that's it! You're done.
Why?
We created Africa Gastronomic because of the lack of knowledge and negligence of the African meals which is our pride and our riches.
Access to food receipts
To access our recipes is possible only if you have a personal count to Africa Gastronomique
Read More
Training
Africa Gastronomique gets along well to train housekeepers on small techniques …
Read More
Catering service
Africa Gastronomique is embarking on a great opportunity of catering service on the international standard and African gastronomy as the…
Read More
Consulting
Given the united ideas and leadership experiences on this organization this organization gourmet restaurant offers you a consulting firm in the hotel …
Read More
Retouching
Africa Gastronomique would offer you seminars and training for professionals…
Read More
All the services
We offer you a multitude of services. Find them by clicking on button learn more
Read More
please download and complete the membership form below
BECOME A MEMBER
PDF Embedder requires a url attribute